The Four Bartle Types: Achievers
In 1996, Richard Bartle, co-creator of MUDs (multi-user dungeons), released his Bartle taxonomy of player types and introduced us to the concept of the Achiever.
Achievers, also known as "Diamonds" or informally as "Achievement Whores," are the sorts of players who focus on gaining points, levels, equipment, achievements (obviously) or other concrete measurements of success in a game. They enjoy going to great lengths to get rewards that result in little or no game-play benefit – they primarily want the prestige of having it.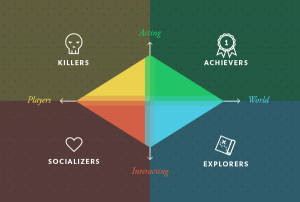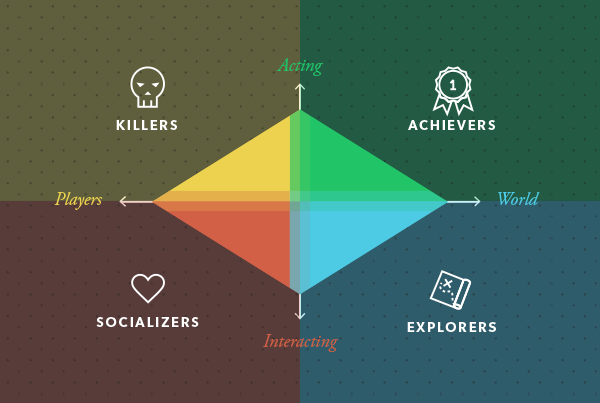 Achievers, like Killers, tend to act on things or people rather that interact with the game at a deeper level (like Explorers and Socializers typically do).
Most everyone has a little bit of an Achiever in them. Marking things off a checklist releases dopamine for most of us. And most every game these day now has explicit achievements in them, thanks to platforms like Xbox Live and especially Steam. But at their core, Achievers thrive on accumulating status tokens by beating the rules-based challenges of a game world. They seek stability through possessions, virtual or otherwise.
What Achievers get out of single-player games
Achievers want to check things off their checklist, whether it's a physical checklist or in a game. Every single game that can be "beaten" in some way appeals to the Achiever gamer because it gives them something to focus on accomplishing.
Games that offer bonuses for achievements or hitting 100% also offer special incentives – like the ones that offer extra endings, bonuses, or special vanity items after hitting certain goals. Some good single-player games for Achievers may have the following traits:
clear progression (anything that shows a % of the game completed or shows checklists of what you need to do as you go, like Horizon Zero Dawn and other RPGs)
gamification elements (not necessarily games but things with badges and/or leaderboards and/or ideally, more than that – like Fitbit, Duolingo, Khan Academy, Acorns)
pretty much any game on Steam or any of the newer generations of consoles hooked into Xbox Live or the PlayStation Network
Sand-box and open-world single-player games may not be the best fit for Achievers but you never know, there are still elements that can appeal to these gamers as everyone's on the achievements bandwagon these days. And Achievers don't necessarily need preset achievements by the developers or publishers to feel accomplished – they also will take a lot of joy in setting specific goals for themselves within a game.
If you want to test and see if you're an Achiever or not, spend 5 minutes with this Flash game.
What Achievers get out of multiplayer games
Like the Socializers, this is a no-brainer – Achievers flourish in multiplayer games as they can show of their achievements there.
Per the Wikipedia overview of the Bartle types,
In many ways, the Achiever is the style of play most targeted by the MMORPG genre. In many successful MMOs, there is always something else to achieve; even when the character has reached the highest level, as there are usually rare items to obtain and objectives that were bypassed the first time around. Since Achievers can sometimes set very obscure goals for themselves, especially if they feel like they'll be (among) the first to achieve them, they may spend long periods of time engaging in a repetitive action in order to get one more award.
I always think of this Penny Arcade comic as an example of the thought process for the Achiever type: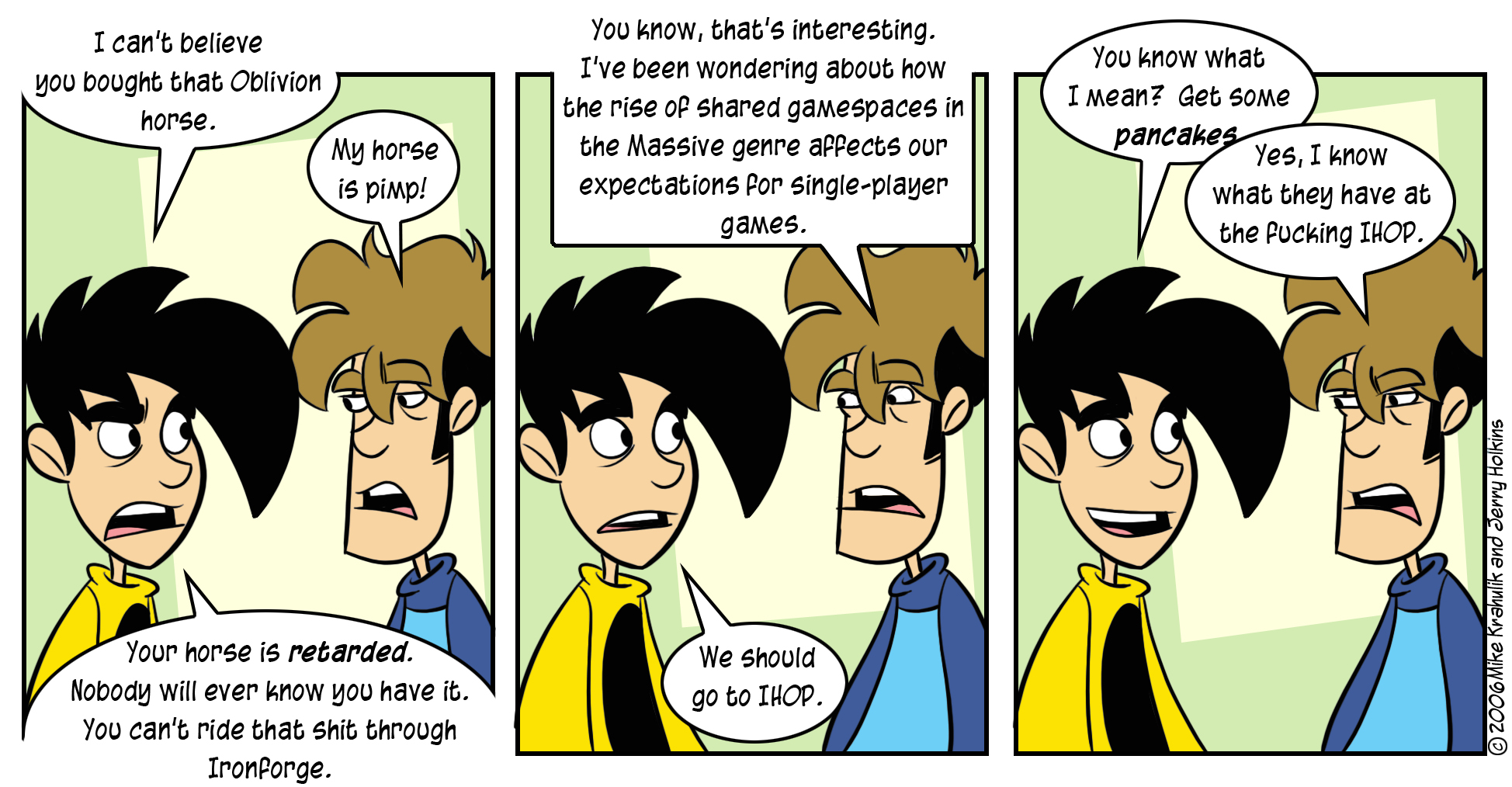 In multiplayer games, Achievers love (or sometimes hate) competition from other Achievers and they play games well with Socializers who support their achievements.
Naturally, Achievers like to see their username and/or avatar at the top of scoreboards or ladder systems. A lot of games have latched onto Achievers as the standard gamer type and try to cater specifically to them now by offering special titles, exclusive mounts or other vanity items to people who complete difficult tasks or end up on the scoreboards. Think of how Blizzard utilizes this in nearly all of their games with seasons now – if you end up placing, you get special items to show-off your previous accomplishments, whether it's a character portrait in Heroes of the Storm or specific cards for every month in Hearthstone.
So pretty much any multiplayer game is compatible for Achievers, same way that pretty much any multiplayer game is compatible for Socializers.
Free-form games may be a little bit more challenging for the Achievers who like to have pre-set achievements and checklists of things to accomplish – like Minecraft may not be a great fit, whereas World of Warcraft has more achievements than anyone can possibly do in a lifetime. But it really depends on the gamer.
Options for co-op games to play with a predominantly Achiever type
Achievers are the second easiest of the Bartle taxonomy to address on this site (behind Socializers) because pretty much any modern co-op game has achievements these days. And Achievers have the unique ability to make any game adhere to their play style, if they really want to do so, as they can make their own goals and achievements for themselves to complete in-game.
If you're both Achievers, things may get a little complicated as you both strive to achieve and compete. It could be incentivizing or it could lead to some distress.
Table-top games are a little iffy. If the Achiever you're playing with definitely prefers showing off items of prestige or following structured checklists set by a game designer, they may not really enjoy table-top games after being catered to so heavily now by the developers. If the Achiever you're playing with really enjoys making their own sorts of achievements, however, like "I want to do a specific thing x number of times in a game for the hell of it" then maybe consider some of the physical options.
Here are some options to consider:
World of Warcraft (or any other MMO)
Sports-based games, like Rocket League
Battle royale games, like Fortnite or PUBG
MOBAs with league rankings, like Heroes of the Storm
Basically any game listed on this site because they're all going to have achievements in some way, shape or form these days
To see the full list of games we've reviewed that Achievers might enjoy, check it out here.