Heroes of the Storm
Heroes of the Storm is Blizzard's answer to the multiplayer online battle arena (MOBA) genre dominated by the likes of Dota 2 and League of Legends. They call it a "hero brawler" but they're full of crap, because it's still a MOBA.
Heroes of the Storm Gameplay
Heroes of the Storm, like most MOBAs, focuses on 5-versus-5 matches. It runs on Blizzard's Battle.net platform, unlike most of the other games on this site that run on Steam.
You can play against other players or you can play against AI/computer-controlled heroes and every week, there's a handful of characters that are available for free on a rotation.
Heroes are divided into four categories currently – Assassin, Warrior, Support, Specialist and Multi-Class. You can play games to earn gold coins, the in-game currency, and buy heroes and vanity items or through level progression, earn loot boxes (a la Overwatch) to randomly get items.
As you play games, you gain experience points when enemies are killed, regardless if they're opposing players or opposing NPCs/minions. Experience is shared across the team in the form of a team level and as your team hits major milestones in points, you can select ramped-up powers and forms of your current abilities, called talents.
A majority of the maps have the same win victory condition: destroy the opposing team's Core while protecting your own.
This isn't a great example of gameplay as it's very old but it does give the general gist and it does so without a really fucking annoying streamer adding their commentary to it, which is the case for about 99% of the Heroes videos I can find:
Our Take
Because of Heroes of the Storm's focus on generating experience as a team rather than as an individual, there's a bigger emphasis on teamwork and planning. Because HotS is free (like the other MOBAs), you get a mixed crowd of people. But most importantly: because HotS is a Blizzard game, that means it's geared better towards the dirty casuals of the world and it's a friendlier experience.
We love this game.
I don't really want to tally up the hours here but if I had to guess, we're probably clocking in around 350 hours at the time of this writing. Just from the estimate of how many games we've played and games lasting ~15 minutes on average.
Ever since we stopped playing World of Warcraft, Heroes has been our go-to for probably 2-3 nights of every week. We play it a lot with Alex's brother and a handful of other friends.
Although we almost stopped about a month ago, however, as we pretty exclusively played us with AI filling out our team versus an AI team and kept routinely getting destroyed. The sub-reddit was extremely helpful, though (thank you guys!) We now do Players vs. AI and so far, it's been a decent experience. Some people truly suck but they're not that much worse than the friendly AI was, in the grand scheme of things. And now we're playing more than ever.
It's not a game for really socializing with new people. It's too fast and too difficult for that. It's also not a game for true casuals. You have to kind of stay on top of the new heroes, new talents, the updates, everything.
But since we don't play competitively and there are a ton of other people out there like us, it's still been an incredibly enjoyable and rewarding experience. It's been like getting the best of both worlds where we've gotten to participate in a highly-popular genre, the MOBA, but in a very friendly, low-pressure environment.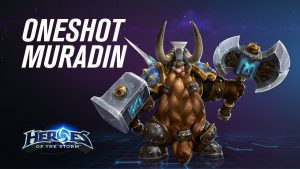 There are also labels for the characters and there's zero shame in exclusively playing the "Easy" ones. Muradin is a great go-to for getting started and you can typically unlock him by playing through the tutorial. His ability to heal on-the-go makes him more resilient for first-timers, along with other characters in the Warrior genre.
Again, this game really isn't for most people. MOBAs can be stressful, even though we've managed to make this one as anxiety-free as possible for us and our play-styles. We also actively play it at least once a week and we've stayed in tune with the bigger game changes, map updates and new characters. Which they're still updating with ridiculous frequency, although I don't know how sustainable that is.
Blizzard did a great job with offering the more casual players of the world a more casual version of a high-pressure game, as is their MO with other games like World of Warcraft, which was originally looked down on at launch because of its lax graphical and play-time requirements compared to market leaders at the time like EverQuest.
But just remember: it's free. Give it a shot. And if you ever want to play with us, let me know!
Overall score: 10/10
---
Title: Heroes of the Storm
Developer: Blizzard Entertainment
Game Type: MOBA
Bartle Type: Killer, Achiever, Socializer
Player Count: 2-5
Average Play Session Time: 45 minutes
Type of Co-Op: Online
Platforms: PC, macOS
Complexity: 4/5