The Four Bartle Types: Socializers
In 1996, Richard Bartle, co-creator of MUDs (multi-user dungeons), released his Bartle taxonomy of player types and introduced us to the concept of the Socializer.
The Socializer, naturally, enjoys games for the social components – usually moreso than the game itself. For the "Hearts" of the Bartle suite, games are more of a vessel for meeting and communicating with other gamers.
Socializers, along with Explorers, get enjoyment from interacting with things or other people on a deeper level (whereas Killers and Achievers tend to like acting on things or people). They want to feel internal change from a game.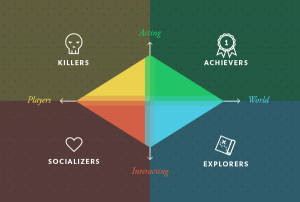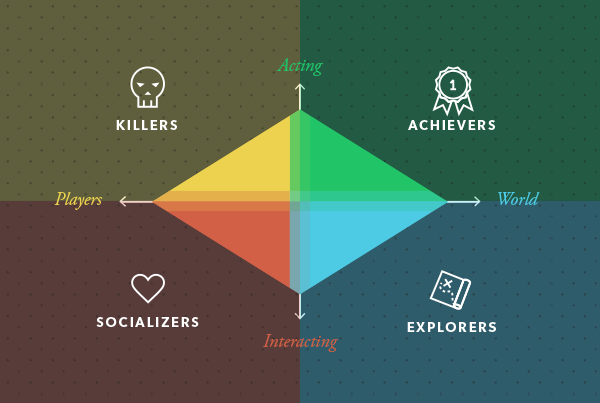 Per Bartle's overview of Socializers, "The only ultimately fulfilling thing is … getting to know people, to understand them, and to form beautiful, lasting relationships."
Similarly to Killers, though, Socializers also appreciate the ability to control how they're able to play dynamically with others. These aspects of a game are more interesting than the actual game mechanics or things like win conditions (usually). Socializers and Killers essentially make their own win conditions and set their own terms for what they want to get out of a game.
At their core, Socializers are logging into games to interact with people – whether it's real people, NPCs, existing friends, new friends, etc.
What Socializers get out of single-player games
Socializers want to socialize. This is a bit harder to do in single-player games but there's still some appeal, especially if there's a strong online community for a Socializer to relate back to after they play a game. Popular games tend to sit well with Socializers as they can talk with friends about the game and continue supporting their desire to interact with people.
However, there are also games that have increased the ability to interact with NPCs (with consequences). Some good single-player games for Socializers may have the following traits:
relationship building (Fable, Mass Effect, Knights of the Old Republic)
popularity (depends on what's current in vogue)
longevity/very solid community base (SimCity, The Sims, Dwarf Fortress)
What Socializers get out of multiplayer games
This is a no-brainer – Socializers thrive in multiplayer games. Online environments in multiplayer games are appealing to Socializers as they provide means to new relationships and ways to build on existing ones.
You may be a Socializer if you start to add people to your Friend List in a game you've barely met or start talking with strangers through private messages on a regular basis.
Socializers are compatible with just about everyone – even Killers, as they sometimes tend to thoroughly enjoy the chaos created by some Killers. There's a symbiotic relationship there as both types enjoy interacting with people (and both enjoy drama to some degree).
Leaders of guilds or clans or groups tend to be Socializers. MMOs live and die by the Socializers in their ranks who bring in their friends (and make new ones) to play with regularly.
Roleplaying components are especially great for some Socializers, as are in-game abilities to make your avatar unique. Decorations, pets, accessories, vanity items – these are all easy conversation starters and easy ways to reflect a Socializer's internal narrative.
Great examples of multiplayer games to play that Socializers may enjoy are basically any massively multiplayer online game that enables you to communicate with other gamers. MOBAs, battle royales and fast-paced multiplayer games can be trickier for Socializers to really get into since communication is limited, unless they're playing with existing friends or feel fearless about talking with strangers over voice chat.
Options for co-op games to play with a predominantly Socializer type
Socializers are the easiest of the Bartle taxonomy to address on this site because pretty much any co-op game is going to be a fantastic option for a Socializer.
Not to say that Socializers don't have their standards and preferences. But this type just enjoys communicating and interacting at their core, which is what this whole site is about, so pretty much any game on here is good for a Socializer.
Still, some games are better than others. And some Socializers greatly prefer games they play with their friends rather than using games solely to make new friends. MOBAs and battle royale games, for example, can be great for Socializers seeking an option to play with existing friends but the ability to make new relationships on them is very limited.
If you're both Socializers, pretty much anything is golden. But if you're not a Socializer and your partner predominately is, you may want to be more of the deciding factor when it comes to picking a game for an evening. Here are some options to consider:
For new relationship building:

Really, pretty much any MMO

For existing relationship building:

Basically any game listed on this site
To see the full list of games we've reviewed that Socializers might enjoy, check it out here.