Borderlands 2
Borderlands 2 is an open-world first-person shooter role-playing game with a very distinct style and sense of humor. In the game, you complete quests and sort through loot to progress the story or drive around in circles in the desert while your friends try to do productive things.

Borderlands 2 Gameplay
To catch you up on the story (spoilers alert, I guess?), here's Wikipedia's summary of Borderlands:
Five years have passed since the events of Borderlands, when the four Vault Hunters, Roland, Mordecai, Lilith, and Brick were guided by a mysterious entity known as "The Guardian Angel" on the planet of Pandora to the Vault, a mysterious alien structure that was rumored to hold ancient and exotic technology and riches. Instead, these Vault Hunters were confronted by an alien abomination known as "The Destroyer" inside the Vault. After defeating The Destroyer, a valuable mineral called "Eridium" started flourishing through Pandora's crust. Handsome Jack, the president of the Hyperion Corporation, secures this new resource and makes use of it to attempt to "bring peace" to the planet. Now, Handsome Jack rules over the inhabitants of Pandora with an iron fist from his massive satellite built in the shape of an "H", always visible in the sky in front of Pandora's moon. Meanwhile, rumors of an even larger Vault hidden on Pandora spread across the galaxy, drawing a new group of Vault Hunters to the planet in search of it.
Basically, Borderlands 2 revolves around the mysterious Vault and you are a Vault Hunter. It's a standard FPS from the perspective of gameplay mechanics and a standard RPG from the perspective of, well, you're playing as another character.
From there it gets less standard. Borderlands 2 has a rich story and great collaborative mechanics built into the game so you can seamlessly join and drop from your friends' games.
Our Take
Personally, Borderlands 2 is not my favorite. It's a good game but it's just not my favorite. I've spent about 15 hours on the game to date.
Alex, on the other hand, has spent over 200 hours playing Borderlands 2. Even though he's not a FPS kind of gamer, this game has a special place in his heart as he used to play it very regularly with one of his best friends.
The FPS mechanics are simple enough for a new-timer and for people who aren't really into FPS, which is probably why Alex is a fan. It's also been considered a "loot-happy grind" of a game, similar to Diablo and plenty of other dungeon crawlers. However, it's still pretty easy to get overwhelmed by everything going on and it's easy to lose track of the story that's supposed to be excellent when you're playing the game with other people who are triggering story events and going off, doing other things.
The sense of humor also isn't for everyone. I think it's hilarious and I think plenty of people who play games regularly probably have a twisted sense of humor inline with this game, but plenty of the jokes and references will absolutely rub people the wrong way. Just take the box cover art, for example: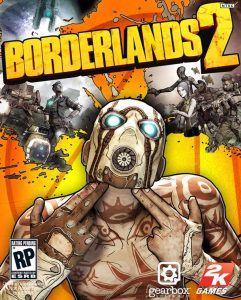 If you want to get an idea of if the humor is good for you, consider watching some episodes of Hey Ash Whatchya Playin' (HAWP) – it's the same writer behind the game. A few of my favorites include:
On the bright side, the game allows for a ton of different play styles thanks to the different characters and skill trees that the characters have. And even more importantly to me: there's strong female characters. You'd be surprised at how much this is missing from most popular FPS.
Overall score: 7/10
---
Title: Borderlands 2
Developer: Gearbox Software
Game Type: First-person shooter, RPG
Bartle Type: Killer, Explorer, Achiever, Socializer
Player Count: 2-4
Average Play Session Time: 45 minutes
Type of Co-Op: Couch, Online
Platforms: PC, Linux, PS3, PlayStation Vita, Xbox 360, PS4, Xbox One, Nvidia Shield
Complexity: 4/5