The Four Bartle Types: Killers
In 1996, Richard Bartle, co-creator of MUDs (multi-user dungeons), released his Bartle taxonomy of player types and introduced us to the concept of the Killer.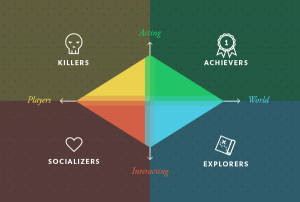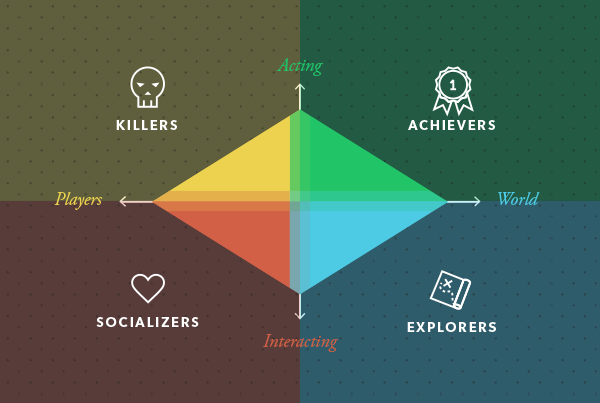 The Killer, as the name suggests, typically enjoys games where they can compete with other players and/or have to kill other humans rather than NPCs (non-player characters). But the term also applies to players who want to play games solely cause trouble with other players, usually referred to as trolls.
If we apply the Bartle taxonomy to a pack of cards, Killers are Clubs (they hit people with them).
Killers, along with Achievers, get the most enjoyment from acting on things or people (whereas Explorers and Socializers prefer to interact with things or other people on a deeper level). Making an impact on people is important to Killers. Killers and Socializers also appreciate the ability to control how they're able to play dynamically with others, while Explorers and Achievers are more interested in controlling their relationships with developer objects and the properties of the game world.
Killers, at their core, take pleasure from acting on other players. They're manipulators. Griefers. As Bartle put it, "Killers get their kicks from imposing themselves on others." And usually, they "wish only to demonstrate their superiority over fellow humans."
What Killers get out of single-player games
Killers want to destroy, compete, and make an impact on their surroundings. Good single-player games for Killers may have some of the following traits:
action or adventure based (for example, Borderlands, Unreal, DOOM)
destructible environments (Minecraft, Red Faction, Just Cause)
option to play as a good guy or bad guy (Mass Effect, Knights of the Old Republic, The Sims)
sandbox games where the society can be built up or destroyed (Grand Theft Auto, Skyrim, Fable)
ability to create items to destroy others (Fallout, The Long Dark, Don't Starve)
What Killers get out of multiplayer games
For the most part, Killers just want to feed their competitive spirit and play against actual other players. There's a rush in reading your opponent's moves, reacting, learning, and ideally beating them. Some people thrive on this far more than others.
And sometimes, we all have that itch to create mayhem. It may be the fleeting joy of getting a rise out of someone in YouTube comments or having power over other players.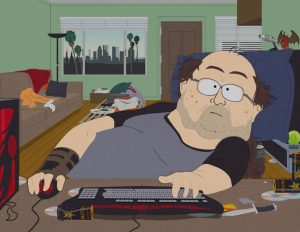 The thrill of the hunt might be the most appealing part to some Killers and it explains the whole act of "ganking" – taking a higher-level character and repeatedly destroying others. The gamer in this episode of South Park, for example, is almost assuredly a Killer.
Wikipedia gives a good overview of how this can go in multi-player games,
Once a killer finds a weaker character it becomes increasingly enjoyable to "Hunt" this character, stalking him through different zones. Repeatedly stalking and killing a weaker player adds a thrill of a certain type well described in the short story The Most Dangerous Game. Once stronger enemy players arrive to help, the Killer either waits patiently or stealthily sneaks somewhere else to repeat the process. These Killers love to have the notoriety of being someone that should be watched out for, or even better, someone to be "Killed on Sight."
However, not every Killer is a troll and not everyone just wants to gank people consistently like an asshole. Some Killers thoroughly enjoy manipulating virtual markets, like auction houses in MMOs. But some do just want to taunt others and be trolls and stir up trouble, wittingly or no.
For the most part, it all just comes back down to competition.
Great examples of multiplayer games to play that Killers may enjoy are basically any massively multiplayer online game that enables player vs player (PVP) combat, has some semblance of a general chatroom, and possibly has an auction house or some virtual economy to manipulate.
But massively online battle arenas (MOBAs) and first-person shooters (FPS) also offer unique advantages for Killer types as they offer the thrill of competing against other humans, either on a team or as an individual, and can help a Killer indulge in their social preferences too. Battle royale games are also excellent for Killers.
Options for co-op games to play with a predominantly Killer type
The way the Bartle taxonomy works isn't that you're just strictly in one box on the chart. You have percentages apply to you and you may have some leanings some days and other leanings on other days.
The Killer is a taxonomy type that may be really challenging to enjoy co-op games with as what they want out of games is vastly different than Explorers and Achievers, although Socializers may pair well as both innately want to interact with other people.
If you're both into being Killers from time to time, any MMO, MOBA, FPS, RTS or battle royale game should be a good fit for you two as Killers. If you're not a Killer and your partner predominately is, here are some options to consider that can help you both be happy:
To see the full list of games we've reviewed that Killers might enjoy, check it out here.