World of Warcraft: Battle for Azeroth
World of Warcraft is a massively multiplayer online role-playing game (MMORPG) launched in 2004 that is somehow still alive and thriving. It's even beating League of Legends as of August. 2018.
Crazy stuff.
We've written about WoW before so if you want a more focused piece on the core game, check out the World of Warcraft post from November, 2017. This review is focused specifically on the newest expansion, Battle for Azeroth.
WoW: BfA Gameplay
World of Warcraft continues to build on itself with expansions. The main things that have been added:
new dungeons and raids
no more PvP servers
Island Expeditions
Warfronts
new zones and quests
Battle for Azeroth (BfA) is the seventh expansion for WoW.
Our Take
This is my fourth time coming back to World of Warcraft – my second time with Alex and his brother. As of writing this post, Alex and I spend our evenings playing when we succeed in getting our screaming 5-month old baby to sleep. It's a challenge. But it's worth it.
We both hit the 120 level cap within a few weeks of launch, which was surprising. WoW: Legion was a grind (especially Suramar) and it feels like they've geared this back towards dirty casuals like ourselves again.
That being said, a month in to the expansion and we're already getting a little bored. The new dungeons and raids are interesting but also have some asinine mechanics (making nearly dead enemies run away into other enemies is the best). It's also aggravating when people still don't know how to do the dungeons and we've done them several times now, but that's just a normal part of MMOs, I guess. Also normal – I get all of the zones confused. For some reason, Legion seemed much more different to me and I could identify the regions pretty well. All of these regions and zones blur together in my mind but it could also be due to sleep deprivation from the baby…
Island Expeditions are all right – they're pretty perfect for us since we play with Alex's brother on such a regular basis that it's a good fit, but there's something lacking there too. We've only tried the standard mode so far and maybe it'll be more interesting playing against other humans.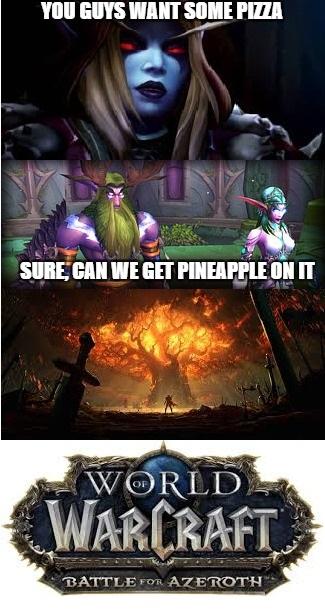 Personally, I hate the Warfronts efforts. It's like PvP without the thrill. Alex is into them but I feel like they're a waste of time.
The biggest thing has been the switch away from PvP servers. I like PvPing…every now and then. We paid $20 to transfer our characters last year to get away from a merciless PvP server and I'm glad people won't have to do that nonsense anymore. I'm bitter that we lost out on monies but..seriously, it was time for them to change this part of WoW.
All in all, we loved Legion a lot more than this expansion. I've heard the story for this expansion is way better than previous ones but I've been rushing to level up when the kid's asleep so enjoying that component of the game hasn't really been a priority. And personally, I really loved doing things with the Horde in the last expansion. I've never understood the division and how people get so heated about imaginary factions. It was nice to be doing things with Horde peoples and now we're split off again and it feels meh to me.
Also RIP Darnassus 🙁
Our rating: 7/10
---
Title: World of Warcraft
Developer: Blizzard Entertainment
Game Type: Fantasy, MMORPG
Bartle Type: Killer, Achiever, Socializer, Explorer
Player Count: As many as you want, but 2-5 is a good range for groups within the game
Average Play Session Time: 60+ minutes
Type of Co-Op: Online
Platforms: PC
Complexity: 2/5