The Bartle taxonomy of player types
The Bartle taxonomy of player types is a system for classifying and labeling types of video game players based on a 1996 paper by Richard Bartle, the co-creator of MUDs (multi-user dungeons).
It's not a perfect system but it's simple enough and relatable enough that we use it to help classify games that might be good for specific gamers on this site.
The Bartle player types
Bartle's taxonomy was initially developed for classifying people in MUDs, the precursor to massively multiplayer online role playing games (MMORPGs). The thinking was these are actions and personality types that are then reflected on a virtual world.
The theory was that MUD players could be divided into four main types, considering primarily what gamers thought was fun in the game and what they spent their time on.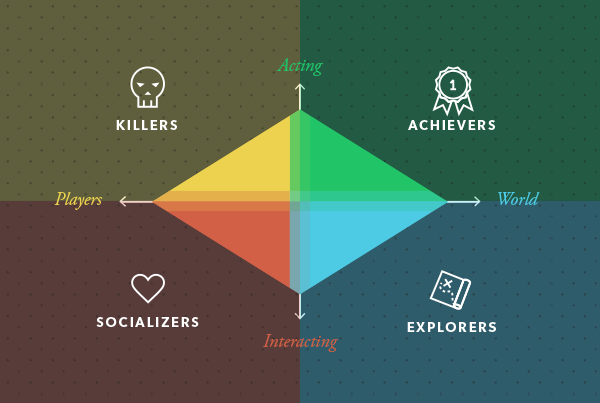 Killers – they thrive on competition with other players or against themselves. They may also be the type of gamer that likes to provoke or cause drama with other players in a game.
Achievers – goals are the most motivating part of a game for Achievers. They like to fulfill goals set by the game or set by themselves and feel most rewarded when they're completing these goals.
Explorers – naturally, they like to explore the game and the world. It may be geographical exploration but it also may be game mechanics and learning the insides and outs of a game. Discovery fuels explorers.
Socializers – the social butterflies of the gaming world. They're typically more interested in developing relationships with other players than playing the game itself. Games are just a tool for Socializers to use to interact with people.
One of the best ways to remember all of these is summed up by Kyatric and I really like it:
"An easy way to remember the four categories of MUD players is to consider suits in a conventional pack of cards:
Achievers are diamonds (they're always seeking treasure).
Explorers are spades (they dig around for information).
Socialisers are hearts (they empathise with other players).
Killers are clubs (they hit people with them)."
How this applies to you
There are tests, like this one, that can help you figure out what kind of games you like and what classification you may fall under. Typically, nobody is purely one type of gamer here – there's supposedly a "Bartle Quotient" that shows what you like more and less in a game.
So first off, take everything related to the Bartle taxonomy with a grain of salt. It's not easy or realistic to put people in boxes and there's no scientific basis for any of this, as with things like Myers Briggs personality tests.
However, like the Myers Briggs tests, when you actually think about your personality and things you enjoy and things you don't enjoy – it can help you understand yourself and your preferences a little bit better.
Maybe you typically love open-world sandbox games but hate some specific ones that tend to focus solely on player vs player interactions or constantly push you towards earning achievements. You may be primarily an Explorer and knowing that as you look for games, you may have an easier time identifying future games you'd enjoy.
For example, I used to enjoy a broader mix of games and enjoy different things from them but in my old age, I am almost exclusively a Socializer and an Achiever. Exploring is zero fun for me and so is anything that emphasizes game mechanics for Killers. Being on a PvP server on World of Warcraft was miserable for me.
Knowing the types of games you enjoy (right now) and the types of games your primary gaming partner enjoys can help you identify games to play together and making sure it caters to both of your preferences.
If you'd like to learn more about the different types, check out the more in-depth overviews we've done for Killers, Socializers, Explorers and Achievers.
And here's a quick cheat sheet to the games we have reviewed based on some of the playing styles they cater to: