Human Fall Flat
Ever wanted a co-op game where you tried to complete puzzles with another person while controlling a little drunk person? Look no further.
Human Fall Flat Gameplay
Human Fall Flat is an open-ended physics-based puzzle and exploration game set in open-ended lookin' "dreamscapes."
The goal of the game is to escape the "dreamscapes" by solving puzzles with your malleable little human and at least on this site, with another malleable little human too.
That's all there is to it. It's a pretty simple game. But the physics of it (and the controls of your human) are what make things interesting/challenging/hilarious:
Our Take
Alex and I couldn't stop giggling while we played this.
We've only played this game for about 2 hours after a great friend of mine got us two copies for Christmas. I had never heard of it before. And I think during that time, we played through a majority of the game. Like we've got maybe 2 levels left out of 9, although the very last level we did ended up taking a pretty long time.
It doesn't seem like it's a very long game or that it has a lot of replayability.
But for one night of date night gaming, it was relatively perfect.
Oh sure, we worked together eventually. For about the first 15-20 minutes, though, we just kept laughing over the physics and trying to kill each other. A good example from another review: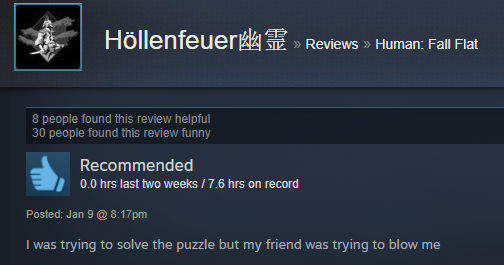 One of my favorite things to do was just as Alex was about to solve a puzzle, I'd use my flimsy human arms to grab his character and just hold on so he just flailed in place for a while. We also got pretty good at pushing each other off the level from time to time.
It's not easy to describe how entertaining this is with words. You kind of have to experience it yourself with someone else. Also, if you find videos of drunk people entertaining, you will almost definitely find this game entertaining too. Like these classics:
Right now, this game costs about the same as going out to a movie for a night and it's way more memorable. I was probably in tears at least once or twice from laughing so hard and that's not a normal thing for me. But we kept discovering delightful new ways to screw each other over as we also made our way through the puzzles in the game.

Overall score: 8/10
---
Title: Human Fall Flat
Developer: No Brakes Games
Game Type: Platformer, Puzzle
Bartle Type: Explorer, Socializer
Player Count: 2-4
Average Play Session Time: 30 minutes
Type of Co-Op: Couch, Online
Platforms: Nintendo Switch, PlayStation 4, Xbox One, PC
Complexity: 2/5